Should You Keep or Remove That Built-in Office Reception Desk?
Reception desk or no reception desk? That is the question! This week's commercial property tip is all about whether or not to remove that built-in reception desk from an office when a tenant leaves.
Tenants vacate commercial spaces leaving the property owner with an empty office space that needs cleaning, updating, and sometimes a complete renovation. But what comes first? Do you update the office space or do you wait for a new tenant who outlines their space needs for their particular business?
The type of work that could be done and when to do that work will be discussed in another article. Today, let's focus on one small piece of the issue -- the built-in reception desk in a small to mid-size office.
And the answer as to whether to leave or remove a built-in reception desk is simple. Unless you are marketing the space as a medical office (which still utilize built-in reception desks because they have a dedicated person greeting patients and checking them in for their appointment), then we suggest you remove any built-in reception desk.
But why? You may be thinking that the built-in desk is in perfect condition and could be very useful to the next tenant. And that may have been true 10 years ago, but it's less likely to be true today.
Companies today operate differently than they did 10 years ago. Automated answering systems that direct callers directly to the person they're trying to reach have taken the place of most receptionists.
Reception areas are still a good idea. A welcoming seating area and a friendly face to greet customers maintains the personal contact if you have customers coming to your office. But the function of the people and this area has changed over the years. Most small businesses no longer have a dedicated person that only answers the phone or welcomes customers. Instead, employees multi-task and often require a flexible work area that can be moved around or customized to their specific tasks.
As a commercial real estate firm, we have found that even the businesses that do have a dedicated person at the front of the office to greet customers prefer to install their own reception desk that's customized to their business's branding. Which means they will likely remove it anyway.
So the answer is simple. If a tenant vacates an office and you plan to update the space with new flooring, paint, or even lighting, then also remove the built-in reception desk. Doing so opens up the floorplan and creates a more flexible space for prospective tenants.
Let us show you two examples.
The first is a dated office in an industrial space. The former tenant occupied the space for many years so when they moved out, a complete update from top to bottom was needed. The landlord was prepared to paint, install new flooring, update the lighting, and install new base trim; but he was considering what to do with the built-in reception desk.
Every prospective tenant that toured this office asked about removing the built-in reception desk. They had no need for it because not one of them had a dedicated receptionist. The open space and use of moveable desks was much more appealing to them.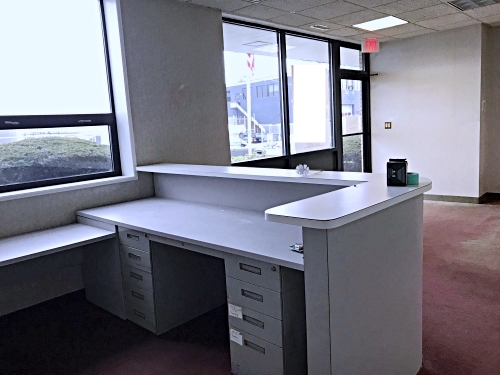 The second example is a five-room office in a professional building. The office was in move-in ready condition, even after the former law office moved out. Every prospective tenant that walked through this space also asked about removing the built-in, granite-top reception desk because they did not have a dedicated receptionist.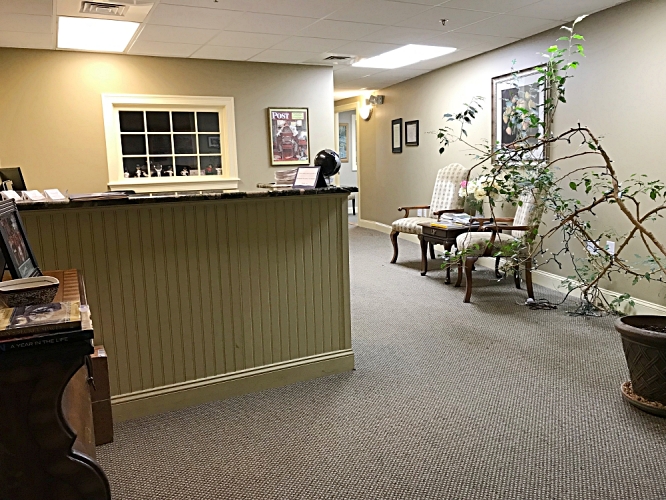 In both of these examples, potential tenants included all types of office users from varying industries (industrial, R&D, insurance, accountant, therapy). While the prospective tenants liked having a reception area, they preferred the flexibility of movable desks and tables.
If you're the owner of a small to mid-size commercial office, you can feel comfortable removing that built-in, stationary receprtion desk to make your vacant office space attractive to the largest number of prospective tenants.
---
Carbone Commercial Real Estate, Inc. is a commercial real estate firm that has been operating in the Boston north and Woburn, MA area north for over 40 years. Visit us at CarboneRE.com
If you found this article helpful, view our Articles page for more commercial real estate industry information.